Sailing through America's Heartland
River journeys will have you rethinking air travel--or at least the location of your next vacation destination.
We've all heard the term "fly-over states," sometimes used derisively to describe the Midwest and the South. The implication is that anything worthwhile is in or near coastal cities like New York and Los Angeles, while everything in between is cows and cornfields.
But many cruise lines know better, and they offer several exciting river journeys that introduce travelers to the rich history, culture, and natural wonders of the often-overlooked American Heartland. Don't fly over, cruise through, taking in dramatic landscapes and myriad attractions along the way.
American Queen Steamboat Company
Bourbon lovers at Maker's Mark distillery near Bardstown, Kentucky, the "Bourbon Capital of the World," watch the famous red wax-sealed bottles zip down the bottling line, a behind-the-scenes peek at the production process of one of America's most iconic brands.
The tour is a premium shore excursion (additional cost) on American Queen Steamboat Company's 9-day Bourbon to Blues cruise that sails from Louisville to Memphis on the Ohio River. It provides a crash course in how bourbon is made and explains why central Kentucky is ideal for producing it—namely an abundance of limestone water that imparts a clean flavor and four distinct seasons that aid in the aging process.
The first lesson is that all bourbon is whiskey, but not all whiskey is bourbon. Bourbon is American-made whiskey distilled from mash (a mixture of grains) that is at least 51 percent corn and aged in new charred-oak barrels for at least two years. Whiskey must be aged in barrels, but they don't have to be new or charred.
In the cavernous rick house where thousands of barrels are stored floor to ceiling, a guide explains how the level of barrel char, which ranges from one to four, shapes the bourbon's flavor profile and aroma. Maker's Mark uses a number-3 char to bring forward toasty notes of vanilla and butterscotch.
Bourbon starts out in the barrel as "white dog," the clear liquid that comes off the still. Over the years, it moves in and out of the wood staves as they expand in the summer and contract in winter, picking up flavor and that rich caramel color bourbon drinkers adore.
Bourbon Country is a celebrated part of Kentucky's heritage, but this cruise also shines a light on lesser known parts of the Bluegrass State, like Paducah, home to the National Quilt Museum.
Don't think snuggly bedspreads made by somebody's grandma. This is the world's largest museum devoted to fiber art, and like any art museum, the art belongs on the wall, not on a bed. Intricate, eye-catching designs range from mysterious African nomads to an ode to the Beatles. It's one reason Paducah was named a UNESCO Creative City of Crafts and Folk Art.
Another reason is the LowerTown Arts District. Embark on a gallery crawl through this fun, Bohemian neighborhood where painters, potters, jewelry makers and many other creative types live and work in graceful Victorian homes. It's just the place to find that perfect souvenir.
When the American Duchess, an all-suite paddle-wheeler, arrives in that lively Southern city known as the Birthplace of Rock 'n' Roll and Home of the Blues, music lovers eagerly disembark for a little "Walking in Memphis."
Elvis Presley fans get all shook up over Graceland, the King of Rock 'n' Roll's mansion and final resting place. Custom iPads guide visitors through the sprawling house, including the kitschy Jungle Room, an homage to Elvis's passion for all things Hawaiian.
Thanks to a recent expansion, there's much to see beyond the mansion. "Elvis Presley's Memphis," a $45 million, 200,000-square-foot entertainment and exhibit complex opened in 2017 across from Graceland. The cornerstone is the Elvis the Entertainer Career Museum that celebrates Elvis's music, movies and tours.
Check out old footage of a young, sexy Elvis swiveling those swoon-inducing hips in "Jailhouse Rock," and marvel at an extensive collection of stage costumes. Elvis's bespoke gold lame tuxedo is there in all its gilded glory.
Next, it's off for a guided tour of cobblestoned Beale Street, where passersby hear raw, soulful vocals spilling from gritty blues clubs just as they did a century ago when the thoroughfare was an entertainment and shopping hub for African-Americans during segregation.
A bronze statue of W.C. Handy, "Father of the Blues," pays tribute to one of America's greatest composers. Handy's "Memphis Blues," published in 1912, introduced mainstream America to this thrilling new musical genre.
www.americanqueensteamboatcompany.com
Alexander + Roberts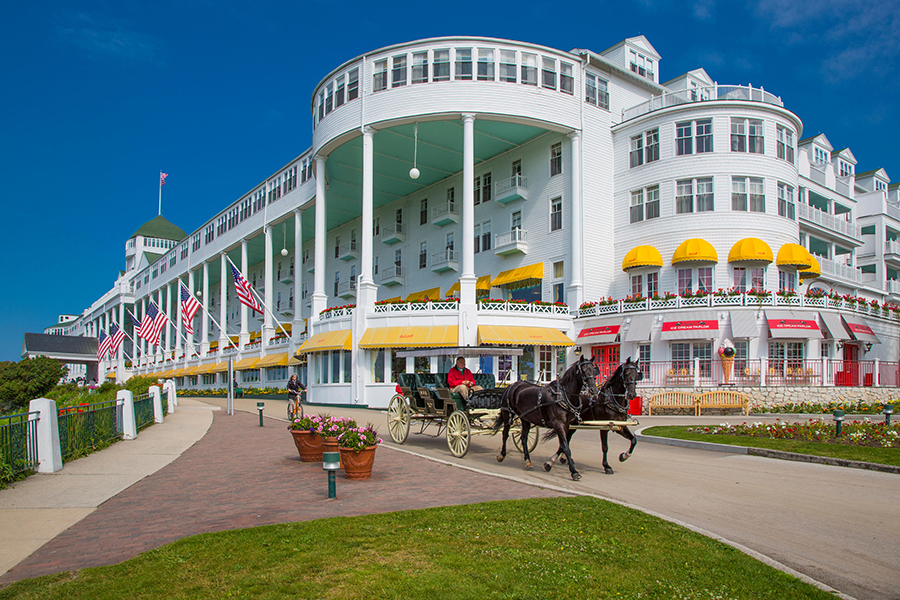 The expansive, geranium-lined porch of the Grand Hotel on Mackinac Island (pronounced Mack-i-naw) creaks with the rhythmic motion of rocking chairs lulling occupants into a state of summer bliss as they gaze across the sapphire-hued Straits of Mackinac, the waterway that divides Michigan's Upper and Lower peninsulas.
Some of those contented rockers are passengers from Alexander + Roberts America's 10-day Great Lakes cruise that sails from Chicago to Toronto. They've just finished a scrumptious lunch in the elegant dining room of this landmark hotel that has been hosting well-heeled Midwesterners since it opened in 1887, and now they are enjoying a little down time before returning to the comforts of the newly-refurbished Victory 1.
Many book this cruise because it gets them to Niagara Falls, but along the way, they often discover charming parts of the Midwest that weren't on their travel radar before.
Few Midwest summer retreats are as peaceful as Mackinac Island, largely because it's automobile-free. As visitors stroll the quaint downtown streets dotted with fudge shops and majestic Victorian homes, they will hear the clopping of horse-drawn carriages and the polite tinkling of bicycle bells, but they will never encounter a raucous traffic jam.
History buffs tour Fort Mackinac, a National Historic Landmark that chronicles the story of how the military outpost was captured by the British during the War of 1812. A handful of American soldiers guarding the fort were badly outnumbered when hundreds of fighters stormed the stronghold, forcing them to surrender.
Costumed interpreters demonstrate 19th-century weaponry and answer questions about what daily life was like.
The fort is perched on a scenic bluff, so even if you're not a history enthusiast, the bird's-eye view of the waterfront town makes it worth the trip.
Other noteworthy stops are Cleveland's Rock & Roll Hall of Fame and the Henry Ford Museum in Dearborn, Michigan, that showcases the auto industry.
American Cruise Lines
American Cruise Lines' 15-day Grand Heartland cruise sails from St. Paul to New Orleans on the same waterway Samuel Clemens, aka Mark Twain, navigates in "Life on the Mississippi," his memoir about piloting a steamboat along the Mississippi River before the Civil War. Cruisers can choose between plying the river on the Queen of the Mississippi paddle-wheeler or on the 190-passenger American Melody, a modern riverboat that debuts next year.
A favorite port is tiny Hannibal, Missouri, Twain's hometown that inspired two of the literary icon's greatest novels, "The Adventures of Tom Sawyer" and the even more revered sequel, "The Adventures of Huckleberry Finn." You may even see mischievous Tom and his crush Becky strolling Main Street. No telling what they're up to.
The Mark Twain Boyhood Home and Museum, a modest wood frame house, showcases the writing desk where Twain penned his famous works and one of his hallmark white jackets.
Marketing and Community Relations Manager Melissa Cummins says, "Visitors leave with a greater love of Mark Twain and his writings. Seeing his humble beginnings and the actual places that inspired him brings his books to life."
Catch the "big city" side of Missouri in St. Louis where you can capture an Instagrammable shot of the landmark Gateway Arch from the ship's balcony. At 630-feet, it's the tallest man-made monument in the United States.
Peruse the treasures at the Saint Louis Art Museum, then grab a cold beer at Anheuser-Busch, one of the oldest breweries in the U.S.
Wisconsin and Iowa aren't usually at the top of the bucket list, but this cruise introduces gems like the Dahl Auto Museum in La Crosse, Wisconsin, and the Mississippi River Museum & Aquarium in Dubuque, Iowa.
During this era of Covid-19, many Americans aren't ready to travel to exotic locales, so what better time to get acquainted with the treasures in your own back yard?
Looking Ahead
Soon, there will be a new kid on the dock. Viking is now accepting bookings for its Mississippi River cruises that debut in August 2022. The company's first custom vessel, the 386-passenger "Viking Mississippi," will provide eight and 15-day sailings between New Orleans and St. Paul. www.viking.com
Tracey Teo is a writer living in Evansville, Indiana.